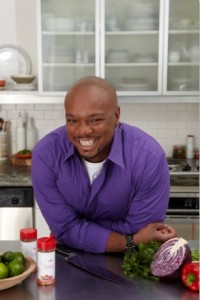 Born and raised in Camden, New Jersey, Aaron McCargo, Jr. rose to fame following his Season Four win on "The Next Food Network Star" in 2008 with the premiere of  "Big Daddy's House" later that year. With the show's continued success, Aaron has proven he's a staple in the world of celebrity chefs and continues to grow his evolving lifestyle brand with a hit book, his own line of spices and herbs, his own youth-focused non-profit, on-going national media appearances and many other projects in the works.
As someone who has always enjoyed all things flavorful, Aaron's passion for cooking was sparked at the age of four when he started baking cakes in his sister's Easy Bake Oven. At the age of 13, Aaron worked as a Junior Volunteer in the kitchen at Cooper Hospital University where his entrepreneurial spirit was sparked as he began making and selling cakes and cookies to his childhood friends. Aaron continued to follow his love for the culinary arts and attended Atlantic Cape's Academy of Culinary Arts.
In 2003, Aaron opened his namesake restaurant in Camden, called McCargo's, and before his meteoric rise to fame on the Food Network, he served as the Executive Chef of Catering at Thomas Jefferson University Hospital in Philadelphia. In 2008, Camden Mayor, Gwendolyn Faison, recognized Aaron's service and continued success by giving him a key to the city and designating September 25th as Aaron McCargo, Jr. Day.
Aaron has been featured on numerous national shows including The Today Show, Regis and Kelly, Nate Berkus, The Dr. Oz Show, ABC's The Chew and Rachael Ray and his rise to fame has been covered everywhere from The New York Times and Sunset magazine to Savoy and Star. As a contributing editor for Essence Magazine, Aaron repeatedly shares his insight on one of his favorite topics: how to get the family into the kitchen.
Aaron comes from a family of five brothers and sisters, whose continuous support has helped him achieve his goals. In his spare time, Aaron enjoys Bible study, tennis, Buffalo wings, watching sports, and traveling. Happily married with three beautiful children, Aaron lives with his family in New Jersey.