Kelly "Pea Brain" Parthen is the co-founder of Bean Sprouts, a hip and healthy café that serves family destinations, such as zoos, amusement parks, children's museums, and science centers. With a company philosoPEA of "sparking kids' appetites for yummy, good-for-you food and delighting parents with a happier mealtime," Bean Sprouts has repeatedly been named a restaurant industry "Top 100 Mover & Shaker" for its engaging and experiential concept that empowers kids to make healthy choices.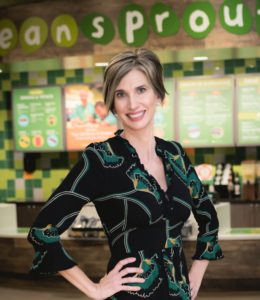 Kelly and her business partner, Shannon "Peacasso" Seip shared their playful and innovative approach with Michelle Obama's Let's Move! team at the White House and with many major media outlets including Good Morning America, Today Show andParents Magazine. Their newest cookbook, Bean Sprouts Kitchen, hit Amazon's best seller list in its category.
Bean Sprouts is one of the only restaurant chains in the country exclusively founded by women.