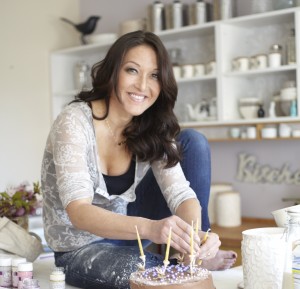 Cookbook Author, Food Writer & Judge on Iron Chef America
Food Television Host, Judge, Healthy Lifestyle Expert 
Candice Kumai received her culinary training at Le Cordon Bleu California School of Culinary Arts and has cooked in several California based restaurants. Candice is currently a judge on Iron Chef America, cookbook author, food writer for Men's Health, Women's Health and various lifestyle publications. A former model-turned-chef, Candice is always looking for ways to infuse wellness into even the most indulgent of foods. Her recipes are loaded with "Foods with Benefits" like protein, fiber, and omegas and are free of the processed junk that is all-too-common in the American kitchen. Her recipes will keep you feeling lean, lovely, satisfied and of course sexy!
Candice is also a Top Chef alumnus, the author of Pretty Delicious, a contributing author to the New York Times #1 bestseller Cook Yourself Thin and soon to be author of a newest cookbook release Cook Yourself Sexy: due out October 2012.
When Candice isn't cooking, this former surfer from San Diego, practices yoga and Bar Method in New York City. She's also known for throwing dinner parties for her friends and indulging in Champagne and chocolate at her favorite NY restaurants like ABC Kitchen, Marc Forgione's, Mercer Kitchen and Beauty and Essex. She lives by the mantra: "All things in moderation, including moderation."
Candice's new Men's Health Page: http://blogs.menshealth.com/cook-for-more-sex/
Candice's new Women's Health Page: http://blog.womenshealthmag.com/cooking/
Learn more about Candice at CandiceKumai.com or tweet Candice any food questions@CandiceKumai