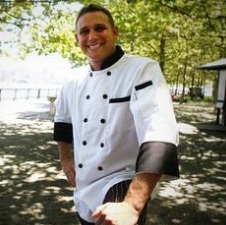 His fare derives from a fusion of family heritage and culinary education, which ranges from Argentinean, Italian, and French flavors that influence his cooking today. During a dark period of what seemed to be endless tribulations for the Chef, Nirschel's mother suggested he revisit a long awaited dream of attending Culinary School.
In 2009, Nirschel enrolled in the French Culinary Institute,where he took his raw talent and paired it with traditional techniques to expand his repertoire into a style all of his own. Immediately after graduation, Chef Nirschel became the Sous Chef at The Knickerbocker Grill in Greenwich Village, NY.  Less than a year later, Nirschel was presented with an offer to advance his title to Executive Chef at Caffe Napoli in historic Little Italy of Downtown Manhattan. Nirschel's "Nothing is Impossible" mentality and natural on camera  personality landed the Chef his TV debut, competing on Season 7 of Food Network Star.
Upon his return home from filming, the Chef realized his next steps in branding were to build his own company. Nirschel began with interactive cooking demonstrations, which sold out in the first month and after meeting so many wonderful individuals who wanted more from the high energy Chef, Nirschel began Catering for large scale events.  Less than three months into the Company's start up Culinary Bad Boy Productions was booked solid with private dinner parties, Children's classes, large scale events and Charitable Galas.