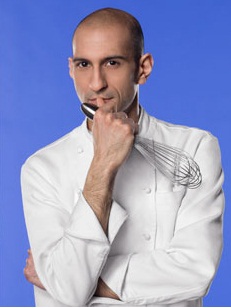 Creative genius, hardworking, eloquent, more so when he expresses his creativity through food, a nice guy and the runner-up of NIC 2009 (Next Iron Chef) that's Jehangir Mehta in a nutshell.
Mumbai-born Mehta expressed more than just an interest in the kitchen and its activities as a child, much to the amusement of his family's cooks and maids. When interest in food evolved into a passion, he expressed a desire to pursue culinary arts. And the rest is history.
With whole-hearted support from his family, Mehta first studied food and cuisine at the Institute of Hotel Management, Catering, Technology and Applied Nutrition in Mumbai before pursuing his passion further at the Culinary Institute of America, Hyde Park, NY.
His first job was at L'Absinthe in New York in 1996, after which he moved to a job he longed: a position at the Typhoon Brewery, where he worked as pastry chef to the brilliant James Chew of Vong fame. Next was a logical jump to Jean-Georges in 1997. The following year, Jean-Georges Vongerichten chose Mehta to open his new restaurant, Mercer Kitchen, which quickly rose to become one of the hottest destinations in New York. After the fast-paced work profile at Mercer Kitchen, Mehta opted for a change. And that change was Rocco di Spirito in Union Pacific in 1999. In 2001, he joined Didier Virot (fellow-chef at Jean-Georges) who was opening his own restaurant. By the end of his short, yet highly acclaimed stint with Virot, Mehta carved a niche for himself in the business. His reputation for creating out-of-the-box, unorthodox and delicious desserts was further cemented after a stint as pastry chef at Compass. During this time, he extended his partnership with Didier Virot, and opened the Upper West Side culinary destination Aix in 2002.
In 2003, Jehangir kick started his event management business through an online site www.partistry.com. The same year he also started Candy Camp, a camp for young children between ages 4-14. At Candy Camp, Mehta prepared both sweet and savory dishes for the children and encouraged them to appreciate the complex ingredients in food and why they taste the way they do. In 2007, Jehangir opened Graffiti, his own restaurant that was simply an extension of the man and his passion. The same year, he also released his first cook-book "Mantra-the rules of Indulgence", published by Harper-Collins. Chef Mehta has now launched the Gastro-Kids After-School initiative that promotes healthy eating among children through exciting after-school menus created just for them.
At Graffiti, Mehta presents food that is inspirational. His compact 50 square feet restaurant produces some of the most exciting dishes New York has ever tasted. Acclaimed for his global cuisine skills, Mehta has been featured in the Vogue and the New Yorker apart from other mainstream food magazines. He has also been a guest on television programs including Martha! and Food Network.
In 2009, Jehangir was pitted against Iron Chef Morimoto in "Battle Coconut" in the Iron Chef America contest. He subsequently participated in the next "Iron Chef" contest on Food network where he was adjudged the runner up and received acclaim for his signature style and creativity.
Jehangir's cultural ties influence him deeply as he draws inspiration from Ayurveda, Asian ingredients and exotic spices. Mehtaphor is a further extension of his personality and his cooking style, something that we've never seen before!