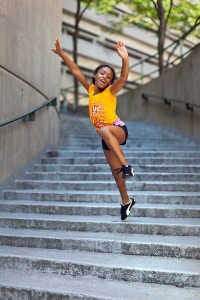 Jodi Evans is an active 5th grader from Bowie, Maryland. Along with being a medalist in the USA Taekwondo 2012 Junior Olympics, Jodi is passionate about inspiring her peers to live healthy.
She is a proud to serve a second term as a Youth Advisory Board Member for the Alliance for a Healthier Generation.  She was motivated to join the Youth Advisory Board so she could have a platform to teach youth how to be healthy in fun and creative ways.  She believes it's important for youth to have a voice in the fight against childhood obesity because youth influence each other.
As one of the youngest member of the Alliance's Youth Advisory Board, she has made significant impacts in her local community of Bowie, Maryland.  To date, Jodi has created a health & fitness display at Prince George's County Bowie library, started the Bowie Wellness Council in Bowie, MD and hosted a Fun Run & Walk for Kids at Bowie High School on Global Youth Service Day.
At only ten-years-old Jodi is one of the most vocal and passionate members of her community fighting childhood obesity.