"I want to bring new and interesting ingredients to the menu to keep our guests guessing and coming back for more."
- Michelle Duran
Born and raised in Washington Heights in New York City, Michelle Duran recalls her first memories cooking as a child in her grandmother's restaurant. Duran's family fostered her appreciation of cooking and encouraged her exploration of pastry making. These early experiences cultivated a deep interest in the hospitality industry and introduced her to a number of roles from hostess to line cook. Since then, her passion has landed her positions at some of Manhattan's leading restaurants.
In 2006, Duran received her Associates Degree in Baking and Pastry from the Culinary Institute of America in upstate New York. Upon graduating, she secured a pastry internship at Zo restaurant on Prince street in Soho. There, she took on the responsibility of producing the eatery's breads and desserts while honing her ability to work in a fast-paced kitchen where boundaries are constantly being pushed. After 9 months, Duran was named pastry chef at New York's Irving Mill restaurant before transitioning into pastry sous chef at Michelin-starred Dovetail restaurant. There she worked under Chef Vera Tong and was challenged with creating specials and developing her own dessert recipes for the first time Duran enjoyed the creative freedom while still having the support of Chef Tong.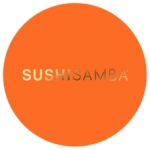 "Vera was the first chef that I worked under for a long period of time," Duran says of her mentor.  "She pushed me a lot and still does."
Duran also pushes herself, most notably with her contributions to SUSHISAMBA's dessert menu. She joined the restaurant group in late 2010. Her latest culinary creation, the White Chocolate Semifreddo with Wasabi-Green Apple Sorbet, intrigues the palate with blends of white chocolate mousse, pistachio powder and a green apple-wasabi sorvete, and has quickly become a customer favorite. Her next additions to the menu will be infused with the diversity and enthusiasm she appreciates about the SUSHISAMBA brand. She says her desserts will compliment the lunch and dinner menus which feature a unique blend of Japanese, Brazilian and Peruvian cuisine.
"I love that I get to learn and work with new ingredients that I have not worked with before," Duran says. "Im hoping that I will be able to bring a whole new focus to desserts. Why not come to SUSHISAMBA just for dessert?"