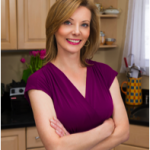 Tanya Steel
Editor-in-Chief
Epicurious.com & Gourmet.com
Tanya Steel is Editor-in-Chief of Epicurious.com, Cond Nast's award-winning digital food brand that reaches more than 17 million passionate food enthusiasts across platforms. Epicurious offers a wealth of daily original content, videos and tips focused on all aspects of food. Under her tenure, it has won three ASMEs, two James Beards, 11 Webbys, a New York Emmy, and dozens more awards. Given her category expertise and proven success with the Epicurious brand, in 2011, Steel was appointed Editor-in-Chief of the Gourmet brand, encompassing Gourmet.com and the digital food magazine, Gourmet Live. With Steel at the helm, she has helped the brands develop extensions, from food products to one of the most downloaded food apps in the world.
Ms. Steel is a more than 25-year veteran of the media industry. Prior to joining Epicurious as Editor-in-Chief in 2005, she served as New York Editor for Bon Appetit magazine for 10 years, where she founded and authored the "Restaurant Reporter," "American Food and Entertaining Awards," and "Starters" columns, as well as the annual "How America Eats" survey. Before joining Bon Appetit, Ms. Steel held editorial positions at Food & Wine, Mademoiselle, and Diversion magazines. She has also written extensively for other national publications, including The New York Times, Travel + Leisure, Child and Cosmopolitan.
Ms. Steel was inducted into MIN's Digital Hall of Fame in 2010 for her leadership in making Epicurious.com the most award-winning food site on the internet. As an author, she won the prestigious James Beard Foundation Journalism Award for Magazine Restaurant Review or Critique, 2003, and is also a James Beard Restaurant Judge. She also currently serves as a member and judge of the American Society of Magazine Editors.
In 2008, Ms. Steel coauthored the award-winning Real Food for Healthy Kids, a comprehensive, practical resource for wholesome, healthful meals for children of all ages, published by HarperCollins. As part of her personal passion around the subject, Ms. Steel initiated an effort to editorially support Let's Move, the First Lady's initiative to address childhood obesity. With the First Lady, she created The Healthy Lunchtime Challenge & Kids State Dinner, a recipe contest with the winners attending a special event at the White House August 20, 2012. More than 1,500 news outlets carried coverage of the event where Steel delivered her remarks in the East Room before Mrs. Obama and President Barack Obama took the stage. She is on the advisory board for Share Our Strength; is an avid supporter of Feeding America, the nation's largest network of food banks; and is on the Culinary Council for the Food Bank For New York City, and Cafe Alma, a culinary program for teenagers. Her latest book, The Epicurious Cookbook (Clarkson Potter) was on the New York Times bestseller list shortly after it was published in November 2012.
Ms. Steel appears very frequently as an epicurean authority on national news and entertainment programs, including the Today Show, Good Morning America, The Early Show, Dr. Oz, CNN, Fox & Friends, Hell's Kitchen, MasterChef, Iron Chef and Access Hollywood.  She was also the host of ABC News Chef's Table. Born in London, Ms. Steel grew up in New York City and now resides in Westchester with her husband and twin 14-year-old sons. Â Her most recent press reel can be seen here: http://www.epicurious.com/services/presscenter/reel.