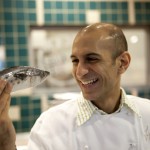 The Next Iron Chef runner up 2010, (Food Network) Chef Jehangir Mehta opened Mehtaphor in Tribecca New York in October 2010, three years after he opened Graffiti in the East Village of New York City in 2007. Prior to his own restaurant soiree, he was the highly acclaimed pastry chef at some of New York City's finest restaurants including Aix, Union Pacific, Compass, and Jean-Georges, and also the author of Mantra: The Rules of Indulgence (Harper Collins)
Jehangir is passionate about inculcating the love for good food in children and getting them to eat healthy. So he works closely with children through his various initiatives; Gastro Kids After School, a weekly program, that runs weekly on Fridays from 4 to 5 pm at Mehtaphor, to his nationwide initiative with Whole Foods called Kids Food Adventure with Chef Jehangir, Â and through Candy Camp, a fun filled private cooking class for children which he started over ten years ago
It all started when, much to the amusement of his family's maids and cooks, Mumbai-born Jehangir took an interest in the goings-on of the kitchen. After he voiced a desire to pursue a career in the culinary arts, Jehangir's family put their full support behind him and sent him to the Culinary Institute of America in Hyde Park, New York. Jehangir thrived at the CIA with the foundation he acquired at the Institute of Hotel Management, Catering, Technology and Applied Nutrition in Mumbai
After his first job at L'Absinthe in New York in 1996, he landed a position he truly longed for at Typhoon Brewery, where he worked as the pastry chef to the brilliant James Chew of Vong fame. From there it was a short yet logical jump to Jean-Georges in 1997. The following year, Jean-Georges Vongerichten selected him to open his new restaurant, Mercer Kitchen, quickly to become one of the hottest destinations in New York. Desiring a change of pace from the high volume of Mercer Kitchen, Jehangir accepted a position to work with Rocco di Spirito 1999 at Union Pacific, and in 2001 he joined Jean– Georges colleague Didier Virot who was opening his own restaurant. Following a short-lived but highly acclaimed run at Virot, Jehangir solidified his reputation for creating unorthodox, intellectually driven desserts as pastry chef of Compass. During this time, he extended his partnership with Didier Virot, and in 2002 opened the Upper West Side culinary destination Aix.
In 2003, Jehangir started his event management business through an online site partistry.com. The same year he started Candy Camp to encourage children aged between 4 and 14 to appreciate the complex ingredients in food, by preparing simple savory and sweet dishes. In 2007, Jehangir opened his restaurant Graffiti, quite simply an extension of the man and his mission, and released his first cookbook "Mantra the Rules of Indulgence" (Harper-Collins)
At his restaurant Graffiti, Jehangir gets to present food that is nothing short of inspiring. From his 50 square foot kitchen he produces some of New York's most exciting dishes, which have been featured in not only traditional food magazines but also Vogue, and the New Yorker. Over the years, Jehangir has been seen on many national television programs including "Martha" and on the Food Network. Where, in August 2009, he was a contestant on Iron Chef America where he competed against Iron Chef Morimoto in "Battle Coconut." In  2009, Jehangir was the runner up on Food Network's acclaimed show the Next Iron Chef
Jehangir's cultural heritage fills him with endless inspiration, including Ayurveda, and his favorite ingredients, fruits and spices. Now it is only left to his imagination as to what he will conquer next.