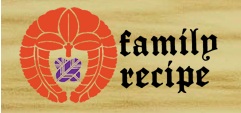 Chef /Owner Akiko Thurnauer was raised by food-obsessed parents in Tokyo, Japan. Akiko's culinary experience started at an early age. When Akiko was a kid her father traveled all over the world for business and brought back many unique ingredients from Asia, Europe, and the Middle East. He took her to fine dining restaurants and street food fairs. Family Recipe is dedicated to the culinary legacy of her father, who passed away 10 years ago. The Family Recipe logo is the crest of Akiko's father's family.
Family Recipe's concept started from Akiko's dining experiences in Japan. Her mother always cooked many dishes for family dining. Her father showed her how to offer true hospitality and enjoy dining with friends and family.
It's not traditional Japanese food -- it's cooking from the heart.
Welcome to my dining!