As frequently preached, "breakfast is the most important meal of the day!" And, with kids heading back to school and schedules starting to get busier, it's helpful to plan the family meals ahead of time in an effort to manage time and stress. Instead of feeling pressed for time in the mornings and grabbing sugary cereals or meal replacement bars, try preparing breakfast dishes the night before (after the kids have gone to sleep), over the weekends when there's more free time (and for appropriate recipes, freeze individual portions to defrost as needed), or stocking the pantry with ingredients for quick-to-prepare meals (think scrambled eggs tossed with nutrient-dense vegetables). Below is a week's worth of links to family-friendly recipes to help keep your team fueled for successful school days and more.
Click on each link below for the complete recipe.  For more family-friendly recipe ideas, please visit The Creative Kitchen and follow us on Facebook to receive frequent updates on wholesome family-friendly recipes, tips, and events.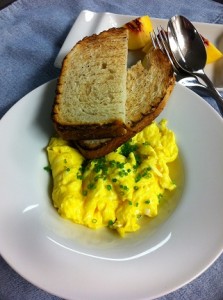 Monday:Â 
Scrambled Eggs w/ Almond Milk & Stracchino
Recipe By: Sam Talbot, SamTalbot.com
Start the week packed with protein to give the family the post-weekend jump-start it needs to get back into the weekly groove!  Try Sam Talbot's quick and easy Scrambled Eggs w/ Almond Milk & Stracchino.  This twist on a classic breakfast will certainly impress the palate!
Tuesday:Â 
Recipe By: Reed Alexander, KewlBites
Blueberries are a kid-favorite super-food, loaded with antioxidants to feed the brain! Make a batch of Reed Alexander's Kewlest Blueberry Muffins for a sweet breakfast treat that can be eaten at home or on-the-go.  Pair it with yogurt and a hard boiled egg for a heartier meal. Think ahead and bake this recipe over the weekend – and, if you have extra, freeze some to defrost and eat another day when you're in a pinch for time!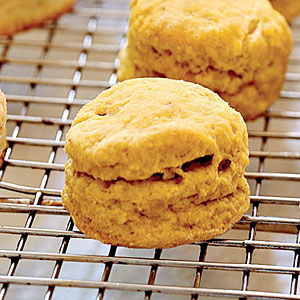 Wednesday:Â 
Recipe from:Â CookingLight.com
These Spiced Pumpkin Biscuits from Cooking Light are tender and low in fat and sodium. The best part is kids can help make them!
Young Chefs Can:
• Help cut dough with biscuit cutter
• Place biscuits on baking sheet
• Help cut butter into small pieces
• Knead dough and measure dimensions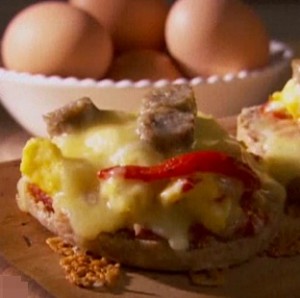 Thursday:
Recipe By: Cricket Azima, The Creative Kitchen
Pizza for breakfast?!  Have a fun-filled morning with Cricket Azima's Breakfast Pizza recipe from FoodNetwork.com!  Ensure that each member of the family will adore his breakfast by getting everyone involved in the preparation.  Set up a buffet of possible toppings with a variety of vegetables and/or meats and each person can make them to taste (younger family members can point to their choices and parents can put on top). Ask kids to choose from broccoli, peas or peppers…whichever they choose, you'll be satisfied knowing a vegetable was included!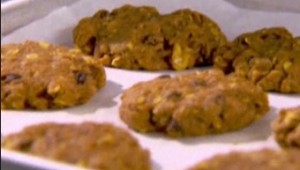 Friday:
Recipe By: Ellie Krieger, Healthy Living 
It's FRIDAY! Celebrate with cookies for breakfast!  Ellie Krieger's Breakfast Cookies, from FoodNetwork.com are loaded with fiber and protein, keeping your family feeling full longer. Pair with a glass of milk, and some fresh fruit for an oh-so-satisfying meal.