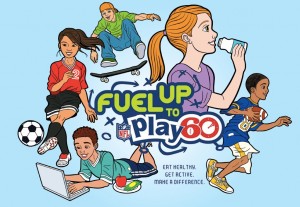 Want to get your kids moving, but need something to motivate them? Fuel Up to Play 60 is a fun, interactive program that allows your child to make a commitment to healthy eating and 60 minutes of physical activity every day.
Founded by the National Dairy Council and the NFL, Fuel Up to Play 60 rewards students for choosing healthy foods and staying active. There are tons of rewards to be earned including tickets to the Super Bowl, perfect for the future NFL players out there! Empowering your child and his school to make healthy choices with Fuel Up to Play 60 is simple with these three easy steps:
Register for free. Create an online profile for your children that they can use to make personal goals (ex. eat 3 fruits per day and play a game of tag), keep track of the healthy foods they eat, record how much time they spend being active, and track their success along the way. They can even earn neat badges and rewards for achieving their goals!
Challenges. Fuel Up to Play 60 has created several challenges that kids can participate in to keep things fun, interesting and motivating.  For example, your child can make a video of himself doing a touchdown dance, then friends and family can vote. If he gets the most votes an NFL player will visit your child's school and PERFORM HIS DANCE!!
Motivate. Motivation is key to any successful health-adjustment. From the Fuel Up to Play 60 online dashboard, your child can send messages to her participating classmates and even send them badges.
If you're an educator… 
Follow these six steps to get your school involved in Fuel Up to Play 60:
Have your school become a participating Fuel Up to Play 60 school here.
Have a large school-wide event to introduce your students to the program, such as a pep rally. This will fire students up and get them excited!
Fuel Up to Play 60 stresses the importance of teamwork. Create teams and get faculty involved in reaching the school's goals.
Take advantage of these online tools that even include polls to see what will best motivate your students to eat healthfully and stay active.
Instruct students on how to track their healthy eating and exercising progress online.
Share your school's success through pictures and videos. Students will love watching their school gain recognition!
Whether you're a parent, a child, government or school official, health professional, or general community supporter, find out more information on how you can support Fuel Up to Play 60.
Are you ready to eat healthy and get active? Register to get started and join the Fuel Up to Play 60 team today!