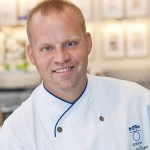 Executive Chef Ben Pollinger leads New York City's Oceana with a distinctive style of cooking that artfully blends the finest seafood with the best ingredients from a global pantry. His creations express a dedication to seasonal products and classic technique with a vast array of flavor profiles
"My goal is to intrigue our guests' palates with the incredible nuances in seafood," he says. "I cook every dish with that idea in mind, catering to those bright and fresh flavors.
In addition to maintaining Oceana's Michelin star for four consecutive years, Pollinger has received outstanding reviews from the New York Post's Steve Cuozzo and Crain's Gael Greene. In his three-star review, former The New York Times critic Frank Bruni called Pollinger's cooking "an exhilarating voyage," and in 2009, Sam Sifton of The New York Times named his Whole Curried Fried Pink Snapper one of the top 11 dishes of the year. Pollinger and his work have also been featured on programs like "The Today Show"; ABC News "Chef's Table", and Esquire named him a rising star chef
A native of New Jersey, Pollinger graduated from the Culinary Institute of America in Hyde Park, NY, as class valedictorian and moved to Monte Carlo to work athe world-renowned Le Louis XV under Chef Alain Ducasse. Upon returning to New York, Pollinger worked for Chef Christian Delouvrier at Les Celebrites and Lespinasse. He spent more than seven years expanding his repertoire with Chef Michael Romano at Union Square Café and Chef Floyd Cardoz at Tabla. Throughout his early career, he developed his particular passion for seafood, intrigued by the broad variety of possibilities and the challenge of preparing delicate ingredients with subtlety and aplomb
Through his work and extensive travels in France, Italy, and Spain, Pollinger has deepened his appreciation for seasonal ingredients and regional flavors. He gained a profound respect for the complexities that go into creating a stellar dish: the devotion of farmers to the soil and the fishermen to their day's catch; the thoughtful application of precise techniques to pure ingredients; and the exchange between chefs and the diners they host. As an avid gardener, Pollinger also finds inspiration for his 500-sqaure-foot organic garden at home in New Jersey, which often provides the herbs and spices that flavor his menus for Oceana. When he joined Oceana as executive chef in 2006, he brought with him the skills and desire to create an extraordinary dining experience based on this philosophy. Coupled with his kitchen leadership, Pollinger reflects the Livanos family's commitment to professionalism and excellence in hospitality
Pollinger, a father of three children, donates his time to various charitable organizations outside of the kitchen, such as City Harvest, Share Our Strength, Autism Speaks, and the James Beard Foundation. He also serves on the Curriculum Advisory Committee at the French Culinary Institute and is an advisor to the Alaskan Seafood Marketing Institute and the Gohan Society.