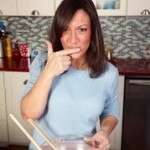 Cricket Azima:
Founder and Big Cheese of The Creative Kitchen
Cricket is a dynamic professional chef who specializes in cooking for and with children. Her children's cookbook, Everybody Eats Lunch, was published by Glitterati Inc., in May, 2008. She works with a variety of food companies offering a range of services including spokesperson, recipe development and testing, writing, teaching, family outreach, blogging, creating webisodes, and consulting. She has worked with General Mills (Betty Crocker and Bisquick), FoodNetwork.com, Fruit Simple, Head Chefs and Kellogg's. Additionally, Cricket has consulted for a number of kids' foods brands.
Since 1999, Cricket has been teaching cooking classes to children of all ages at various locations in New York City, including schools, Whole Foods Market, The Children's Museum of Manhattan, City Treehouse, Girl Scout groups, as well as privately held classes. Cricket has developed curricula for various schools and after-school programs. As an instructor, Cricket is one of a kind. She strives to teach more than a recipe or basic cooking technique, with a teaching philosophy that is based on the educational benefits of cooking. Cricket believes that kids can learn about more than just food while in the kitchen, whether that's history, geography, math, nutrition, science, foreign language, or art.
Cricket developed her cooking and teaching philosophy while pursuing her master's degree in Food Studies and Food Management at New York University (NYU). Her thesis led her to launch The Creative Kitchen™ in 2003, a method of cooking instruction and food education designed to inspire children to express themselves creatively in the kitchen, while reinforcing traditional education disciplines.
The Creative Kitchen is the co-founder of the inaugural Kids Food Festival, a celebration to educate children on how to make balanced food choices in the prevention of childhood obesity through fun programming and entertainment for families.
Everybody Can Cook is a full cooking curriculum that Cricket masterminded, to supplement the lessons of teachers of special needs children in a fun, engaging way.
Cricket is a contributor to iVillage, an online content driven community for women. She is the Family and Children's Editor forThe Nibble, an online magazine about specialty foods. Cricket also serves as the Food Editor for New York Observer Playground, a luxury lifestyle magazine for city moms and moms-to-be. She served as the Food Editor of KIWI Magazine, a family magazine focused on healthy and organic living. She was also the Director of Kids' Programs for Kidfresh, an innovative company in New York City offering all natural, freshly prepared foods for kids.
Cricket is a graduate of Boston University and Peter Kump's New York Culinary School (now, The Institute of Culinary Education). Following graduation, she served as a professor of food studies and an academic advisor at NYU.