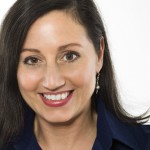 Jackie Newgent, RD, CDN, is a New York City-based chef, registered dietitian, and media personality. She's the author of Big Green Cookbook and the award-winning The All‐Natural Diabetes Cookbook. Jackie is a recreational culinary instructor at the Institute of Culinary Education and nutrition consultant for the "Healthy Children Healthy Futures" program. As a recipe developer and freelance writer, her work is routinely seen in national publications, including Health and Cooking Light magazines, plus she's on the Fitness magazine advisory board. A former national media spokesperson for the Academy of Nutrition and Dietetics, Jackie regularly appears on TV and radio as a culinary nutrition expert. Her next good-for-you cookbook hits shelves and e-readers October 2012.
For more information visit: http://jackienewgent.com.
Follow Jackie on Twitter: @jackienewgent
Fit + Flavorful + Fun Snacking On-the-Go with Jackie Newgent, RD
Join chef, nutritionist, and cookbook author Jackie Newgent, RD, for sweet, savory, smart, and silly talk about wholesome snacking. Kids will have fun finding out why and when snacking is good for them in this visual, interactive and informative session, which includes a live cooking demo of simply nutritious and nutty snacks. Kids will play a "game show" to test their snack food IQ. Plus, they'll fix a balanced (and yummy!) take-home snack.
Sponsor: Wonderful Pistachios