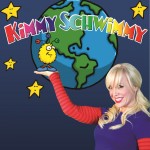 Don't miss KIMMY SCHWIMMY Live at the Bryant Park in New York City Saturday January 21 and Sunday January 22, 2012 at 11:00am and 1:00pm at the Kids Food Festival.
KIMMY SCHWIMMY'S educational and entertaining musical style exposes a broad age spectrum to Rock, R&B, New Orleans style funk, Latin, African and Jazz rhythms.  Blending these musical styles allows Kimmy to appeal to the diverse group of children she teaches each day.  Aside from her catchy and upbeat music, Kimmy's talents also focus on language and literacy, gross motor development and learning skills. This free weekend event joins the fight against childhood obesity by engaging kids and their families in fun activities, tastings and exciting family-focused programming. Through the mission of the Kids Food Festival, families discover the importance of achieving balance in food and lifestyle choices.
With her melodic voice and inspired lyrics, Kimmy's songs will educate children on themes such as animals, colors, the alphabet, vowels, numbers and even social skills.  Don't miss this exciting show!!
Kimmy Schwimmy will be performing songs from her forthcoming her CD The Imaginary World of KimmySchwimmy  available on Itunes, Amazon and CD Baby.
Be on the lookout for Kimmy's new CD scheduled for Spring 2012. For more information about Kimmy Schwimmy, please log on to www.kimmyschwimmy.com and for updates become a friend on Facebook.com/kimmyschwimmy.
About Kimmy Schwimmy
Singer, songwriter and entertainer Kimmy Schwimmy plays to the most important of all audiences--KIDS. Whether it's performing to a sold out theater or a local school, Kimmy believes that sharing a passion for educating through song is at the core of a child's development. Kimmy's current success is a true grassroots story. For many years, she's taken her extraordinary talents to different schools within the tri-state area (New York, New Jersey and Connecticut) where she reaches thousands of children and families connecting music to learning.Kimmy started her career as a performer with The Radicals, a Christian Pop/Rock Group that had a loyal following in Boston, Atlanta, New York, LA and Europe. With sold out audiences at The Boston Garden, Orpheum Theatre, Paramount Theatre at Madison Square Garden, The Apollo Theater, The Palais Des Congress in Paris, and various venues in Hungary and South Africa, these global experiences taught Kimmy the keen art of performance and the importance of singing songs with a message.