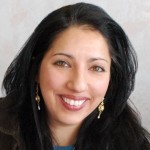 Ramin Ganeshram is a journalist and professional chef trained at the Institute of Culinary Education in New York City, where she has also worked as a chef instructor. Ganeshram also hold a master's degree in journalism from Columbia University and is an adjunct professor in food writing at New York University. She is the author of Sweet Hands: Island Cooking from Trinidad & Tobago (Hippocrene NY 2006; 2nd expanded edition 2010) and the culinary novel Stir It Up (Scholastic 2011) and The Pass It Down Cookbook (Smiley books/Hay House 2010). In addition to contributing to a variety of food publications including Saveur, Gourmet, Bon Appetit and epicurious.com, Ganeshram has written food/culture/travel articles for Islands (as contributing editor); National Geographic Traveler; Forbes Traveler; Forbes Four Seasons and many others. She is a contributor to the Encyclopedia of World Foods (Greenwood Press 2010) and a peer review for the Journal of Food, Culture and Society. Her work will appear in the next edition of The Oxford Encyclopedia of American Food & Drink.
For two years she volunteered as a reporter, writer and editor for Molly O'Neill's magnum One Big Table (Simon & Schuster, November 2010) exploring the foodways of real Americans through history and today.
In October 2010, Ganeshram appeared as a judge on Food Network's Throwdown! with Bobby Flay. Her next projects include a picture book as well as adult novel on Hercules, George Washington's slave chef and Street Food Nation, a historical, cultural cookbook on American street food.