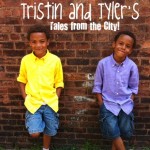 "Tristin and Tyler's Tales from the City!" is a family web series hosted by 7 year old twin brothers Tristin and Tyler, all about having fun and going green in New York City. Each episode follows Tristin and Tyler on a new learning adventure! But make sure you watch closely, because Tristin and Tyler quiz their viewers on key parts of each adventure, which makes the show a fun learning experience for parents and kids!  Check out a new episode every week by visiting Tristan and Tyler online! Let's see what YOU remember!
Tristin
Tristin loves art, reading and making crafts too. He literally draws and creates something every day!
Tyler
Tyler loves sports, video games, and reading books (especially books about superheros), drawing and making crafts!