Pastry Chef Thiago Silva: "Better Chocolate" on Saturday, May 11 @ 12pm: Purchase tickets here!
Pastry Chef Thiago Silva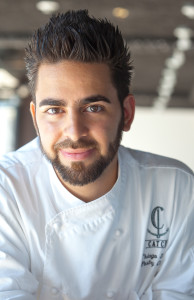 Hailed for his innovative cake designs, EMM Group's Corporate Pastry Chef Thiago Silva's creations have served as jaw-dropping centerpieces on the tables of such stars as Sofia Vergara, Miranda Kerr, and Carmelo Anthony. Having never attended culinary school, Silva has risen through the ranks of Manhattan's restaurant landscape from the early age of 13, after his mother encouraged him to take his first cake-decorating course.
At the age of 19, Silva had his first professional experience, working as a pastry cook at Todd English's New York City restaurant, Olives. Shortly thereafter, Silva left Olives and moved to Sant Ambroeus bakery. During his two years there, Silva was able to explore his affinity for creating cakes, ultimately deciding to further hone his skills in the kitchen at Atria.
In 2009, Silva went on to join the team at EMM Group as the Pastry Sous Chef of its flagship eatery, Abe & Arthurs. Here he perfected his craft producing art-quality cakes both quickly and frequently for a diverse group of discerning diners.
Working closely with Executive Chef Hung Huynh at CATCH, Silva has skillfully and playfully designed a pastry menu that reflects the restaurant's identity. With marquee menu items like the Peanut Butter Cup Soufflé, Fresh Baked Cookie Bucket, and Banana Split Brulée, Silva's confections are sleek, deconstructed takes on dessert classics that complement the sharable nature of the restaurant's dinner menu. His imaginative and whimsical style makes Silva and his pastry department an integral component in developing the character of CATCH.
In June 2013, Silva won Zagat's 30 Under 30 award which celebrates the 30 best chefs, mixologists, restaurateurs and other culinary types under the age of 30.