The Kids Food Festival welcomed families with children of all ages, interested in learning about balanced food choices in a fun and engaging environment that empowers children to make these decisions for themselves!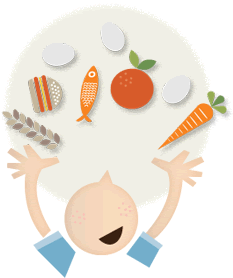 Appetites of all sizes were satisfied with:
Balanced Plate Scavenger Hunt
The James Beard Foundation Future Foodies Pavilion: ticketed hands-on cooking classes
Kids Food Festival Main Stage: free performances including cooking demos and live entertainment
James Beard Foundation Future Foodies Pavilion Ticketed Hands-On Cooking Classes
Saturday, March 5th
10:00 am Camp Cooking with The Boy Scouts
11:00 am Anthony Sasso: Casa Mono's Hand Smashed Burrata with the Flavors of Winter   
12:00 pm Josh Reisner, MasterChef Junior Finalist: Healthy Asian Street Food
1:00 pm Daniel Holzman, The Meatball Shop: Meatball Smash with Spaghetti + Pesto Sauce         
2:00 pm Pastry Chef Thiago Silva, Catch: Healthy Candy  
3:00 pm The Beard House Cooking Class with Izabela Wojcik + Victoria Jordan: Fresh Apple Cookies + Carrot Cookies from James Beard's American Cookery
Sunday, March 6th
10:00 am Michelin Starred Chef Arman Arnal's Maman + Papa Poule: Sweet + Savory Crepes
11:00 am Seamus Mullen, Tertulia NYC +El Colmado: Colorful Vegetable Salad with Lifeway Kefir Vinaigrette
12:00 pm Danny Boome, Executive Director of Gastronauts Adventures + Emmy-nominated host of Good Food America 
1:00 pm Claus Meyer, Restaurateur, Culinary Entrepreneur, Founder of the New Nordic Cuisine movement, + Co-founder of Noma: Beetroot Tartare + Pearled Barley Salad
2:00 pm Hands-On Fondue Fun with Emmi Le Gruyere A.O.P.
3:00 pm Thomas' Greek Kitchen: Greek Nachos
4:00 pm Cricket Azima, Founder + Big Cheese of The Creative Kitchen + Kids Food Festival: Kids Food Festival Fresh, Flavorful & Fun Salsa
*featuring adaptations for various physical + developmental abilities
Time Out New York Kids and the Kids Food Festival host a family date night, Saturday March 5th, from 6pm – 8pm. The event includes delicious dinner bites, fun family activities, and live entertainment! Tickets on sale at http://www.timeout.com/newyork/tickets-offers.
FREE Performances on our Kids Food Festival Main Stage:
Saturday, March 5th
10:30 am Brooklyn Mompost: Hot Soup & Black Gold!
11:00 am  Tristin and Tyler's QUEST-adilla
11:30 am DJ Alden, resident DJ at Cirkiz
12:00 pm Snoopy Meet + Greet, hosted by Horizon
1:00 pm Make Cooking Fun for the Whole Family with Chobani Greek Yogurt!
2:30 APPLAUSE Presents: Selections from "Grease" with Danny and Sandy!
3:00 Kitchen to Classroom: Kids Can Cook! Featuring: Kendra Peterson, Sponsored by: Enjoy Life Foods, Allergy-Friendly Supporting Sponsor
3:30 Raquel Pelzel: Better than Butter! Make-Your-Own Fancy Toasts for Breakfast + After-School Snacks 
 Sunday, March 6th
10:00 am Bubble Garden + New World Stages Ticket Giveaway, Featuring Passes to Stomp, The Woodsman, +The Gazillion Bubble Show
11:00 am Baby DJ School
11:30 am Cheesy Fun with Emmi Le Gruyere A.O.P.
12:00 pm TADA! Youth Theater
12:30 pm Food Detectives 101 with Jonathan Saturay of Pure Food Kids Foundation
1:00 pm Karma Kids Yoga
1:30 pm Special Premiere Screening of Yummiloo, an Animated 'Food Adventure' Show from Blues Clues Creator Traci Paige Johnson + her Colleagues at Yummico
Cedella Marley + Ziggy Marley Children's Book Reading by Zuri Marley
 2:00 pm The Wafer Games, by Loacker
2:30 pm Ramblin' Dan
3:00 pm Rainbow Quinoa with Taste Buds Kitchen!
3:30 pm Veggiecation: Learning to Love Vegetables
*Schedule is subject to change.
Food Allergy Disclaimer: The Kids Food Festival is not an allergy-free festival. We will not assume any liability for adverse reactions to foods consumed, or items one may come in contact with while eating at any of our events.