Kwame Williams of Vital Dining: "Avocado Chocolate Mousse" on Saturday, May 11 @ 4pm: Purchase tickets here!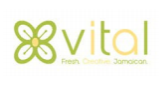 Kwame Williams Chef & Partner
Kwame Williams is Chef and Partner of Vital Dining (Vital) based in Montclair, NJ, along with his two sisters, Nataki and Kanika. At Vital they focus on offering their modern and healthful take on Jamaican cuisine in a vibrant, welcoming atmosphere.
After graduating from the Institute of Culinary Education (ICE) in New York City in 2006, Chef Kwame began his culinary career at prestigious The Ryland Inn, a premier, top-rated restaurant. This experience provided Chef Kwame with an exceptional foundation and solidified his high food quality standards. He continued his career working at respected fine dining establishments in New Jersey and New York including Rat's, The Bernard's Inn, Pleasantdale Chateau, Highlawn Pavilion, Hyatt and Minton's in Harlem. In addition, Chef Kwame is a member of team Chef RLI, and personal chef to Giants Defensive End, Olivier Vernon.
2016 was an exciting year for Chef Kwame and the Vital team, they received a 4-star review from The New York Times. Chef also competed and won on Food Network's cooking competition Cooks vs. Cons in 2016. The Vital team also received the New Jersey Black Businesses "Best in Food Award" in 2016. In 2017, Chef Kwame was one of only 15 chefs nationwide chosen by the James Beard Foundation to participate in their annual Chef's Boot Camp.
Chef Kwame, a devoted father of three, sees the impression that his food choices make on his children and knows that not everyone child has the benefit of having a professional chef as a parent. This has led him to dedicate his free time to speaking at schools and supporting several charities, such as Edible Schoolyard, that introduce healthy food to children.