The Beard House: Kitchen Sink Oatmeal Cookie Sandwiches from the James Beard Foundation's Cookbook Waste Not: How to Get the Most From Your Food on Saturday, May 11 @ 2pm: Purchase tickets here!
Director of House Operations and House Events
The James Beard Foundation
Victoria Jordan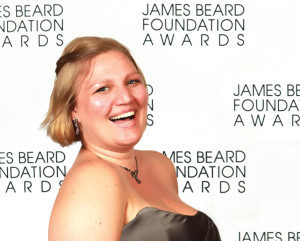 A graduate of the French Culinary Institute, Victoria completed coursework in viticulture and vinification through the American Sommelier Association and spent the first 15 years of her career working in restaurants, working in both front and back of house. She has been the general manager of the E. U. restaurant in the East Village and previously, a floor manager at Jonathan Waxman's Barbuto.
As the Director of House Operations and House Events for the James Beard Foundation, Victoria deals with the physical upkeep of the James Beard House, a 1800's era, 4-story brick townhouse in the West Village that James Beard called home the last 15 years of his life. She also works with many of the chefs who come to cook at the Beard House, planning the logistics for those events and managing the waitstaff and porter team.
She grew up on a farm in Warren County, New Jersey where her father raised pheasants and she had a pony named Macaroni. She now lives in Jersey City with her husband Robert.