Chef Mike Price of The Clam + Market Table: Strawberry Rhubarb Yogurt Parfaits on Saturday, May 11 @ 1pm: Purchase tickets here!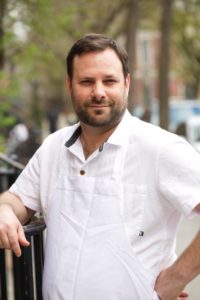 Chef Mike Price is no stranger to the authentic flavors of fresh, simply prepared food. Raised in a small town along the Chesapeake Bay, Mike planted the seeds of his career early on, tending to his family's farm and cooking at a local crab house on weekends during high school.
A graduate of the Culinary Institute of America, he completed an externship at the esteemed Symphony Cafe in New York City, where he would later return to work for three years following graduation. After mastering all stations in the kitchen, Mike brought his expertise to the high-profile clientele at Sullivan's Restaurant and Broadcast Lounge for two years before accepting the tournant position at the Waterclub. Moving to Miami shortly thereafter, Mike opened Fish, an upscale seafood restaurant where he took on the role of sous chef for two years, after which he returned to Maryland to explore a more managerial course heading up a corporate dining room in his hometown.
In 2001, Jimmy Bradley and Danny Abrams asked Mike to be sous chef at The Harrison, where he subsequently spent the next year-and-a-half honing his skills in the sophisticated flavors of New American cuisine. When The Mermaid Inn opened in the East Village in 2003, Mike was the obvious choice to head the kitchen. After creating the Mediterranean and North Atlantic inspired seafood menu, Mike proved his talent for drawing on coastal influences and using the finest in fresh and seasonal ingredients.
In early 2007, Mike and his good friend and then-future business partner, Joey Campanaro, discussed opening a restaurant together. Boasting an open kitchen where Mike can greet customers, share recipes, tips on what's in-season, and demonstrate his knack for customer service to the West Village neighborhood, Market Table is the restaurant Mike always dreamed of opening. Since opening the restaurant in 2007, Mike has received critical and popular acclaim and has been featured in such outlets as Food & Wine, Conde Nast Traveler, The New York Times, New York Magazine, Time Out New York, Travel + Leisure, The Today Show and many others.
This past winter, Mike along with co-owner Joey Campanaro, opened The Clam, a seafood-centric restaurant just a few blocks from Market Table in the West Village, where he is both co-owner and executive chef. At The Clam, Mike offers signature dishes like Cherrystone Stuffies with Pancetta, Trinity and Lemon; Clam Dip with Zesty Potato Chips; and Spaghetti & Clams with Spicy Gravy and Salad on Top.