James Beard Foundation Future Foodies Pavilion
BUY TICKETS HERE to make Fruit Skewers with Kelsey Nixon: Sunday March 2nd, 12 pm

One look at Kelsey Nixon's resume and it would appear she's had decades of experience under her chef's coat. She has starred in and executive produced her own college cooking show, interned at Martha Stewart and Food Network, attended culinary school, competed on The Next Food Network Star, served as a private chef, taught cooking classes at Sur La Table, and developed recipes for corporate brands and restaurants. In reality, the fresh-faced host of Kelsey's Essentials on Cooking Channel received her degree in Broadcast Journalism just a few short years ago. Following the success of her network show, Kelsey has added author to her growing list of job titles with the February launch of Kitchen Confidence: Essential Recipes and Tips that will Help You Cook Anything (Clarkson Potter).
BREAKOUT STAR
Admittedly, Kelsey took the daily home cooked meals her mom prepared for her and her 2 siblings for granted. When she left home to attend Brigham Young University, she soon realized that she'd have to fend for herself when it came to homemade food. Realizing that her peers were in a similar position, Kelsey, a natural go-getter, soon jump-started her culinary career with Kelsey's Kitchen, a cooking show that aired locally and was devoted to 'fast, fun, and affordable meals for college students.' Inspired by the likes of Martha Stewart and her own family's Sunday dinners, Kelsey convinced a BYU Professor to create a for-credit production class. Over the next two years, 100 live-to-tape episodes of Kelsey's Kitchen were shot and directed by students – often on an old infomercial set– with guests appearing regularly. Kelsey starred as host, recipe developer and executive producer, all with a full course load. After graduating from BYU, her passion and drive led her to audition for season 4 of The Next Food Network Star, where she was a finalist and voted 'Fan Favorite' for her simple and relatable, yet charming meals.
A ROADMAP TO CULINARY SUCCESS
Looking to combine her two passions – food and television – Kelsey interned at Martha Stewart Living and Food Network during college, further confirming her love and dedication to the culinary arts. She then attended Le Cordon Bleu – Hollywood and French Culinary Institute, and before embarking on her professional journey in culinary television, Kelsey worked as a private chef and taught cooking classes at Sur La Table as the Assistant Culinary Director. Once The Next Food Network Star wrapped, Kelsey, not content to rest on her laurels, began to develop recipes for large corporate brands (Pyrex and Smuckers) and restaurant menus, such as Utah's Café Zupas. When Kelsey heard that Food Network would be launching a sister channel, she contacted one of the top executives at Food Network, who, unbeknownst to Kelsey, would be spearheading programming for the soon-to-be-born, Cooking Channel. Within months Kelsey, was behind her own studio kitchen taping her new show, Kelsey's Essentials.  
KELSEY'S ESSENTIALS
Kelsey's time on The Next Food Network Star proved to be an invaluable experience and the true launching pad for her cooking show, Kelsey's Essentials. Showcasing her ease in the kitchen, each episode of Kelsey's Essentials, Executive Produced by Chef Bobby Flay, centers around a tip, technique or tool that teaches the home cook how to navigate the kitchen. She gives her savvy tips on must-have pantry items, the latest gadgets and essential kitchen techniques – from roasting and pickling to baking and stir-frying. Her passion for creating recipes that target the home cook – breaking down the basics and teaching proper technique - coupled with her genuine, bubbly personality make her an approachable kitchen companion. In 2013, after just 3 seasons she was nominated for a Daytime Emmy in the Outstanding Culinary Host category. Kelsey has also guest judged on Iron Chef America, contributed to Unique Sweets, and hosted the interactive series The Perfect Three on Cooking Channel. Kelsey's Essentials is currently airing Mondays-Thursdays at 3pm on Food Network.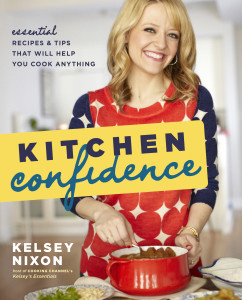 A NEW CHAPTER
Complimentary to the show, her forthcoming cookbook, Kitchen Confidence, will break down staple recipes into simple steps, highlight key kitchen tools and explain basic techniques one should know to create extraordinary food, and feel confident in the kitchen. Filled with more than 100 original recipes, Kitchen Confidence will be a go-to resource for home cooks of all skill levels looking to create easy dishes with an unexpected twist, such as Quinoa Pilaf to Banana Split Ice Box Cakes and one of Kelsey's favorites, Asian Chicken Noodle Soup.
FROM THE BEEHIVE STATE TO BROOKLYN
Growing up in a small town in Utah, known as the Beehive State, Kelsey's most fond memories are rooted in family parties where food and cooking were always at the center of the celebration. She is now creating family memories of her own in Brooklyn, New York where she lives with her husband Robby and their toddler Oliver (Ollie), who co-stars with her in First Time Mom, a new web exclusive series on Ulive, a digital video site. Her second Ulive series, Family Food, launched in November. These days she enjoys discussing babies and bottles as much as baguettes and bok choy while moonlighting between food personality and full-time mom.