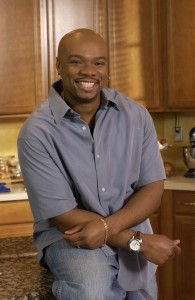 Aaron McCargo, Jr. competed on and won season four of The Next Food Network Star in 2008, beating out thousands of culinary hopefuls for the ultimate dream job – his own Food Network show. Big Daddy's House premiered August 3, 2008 and ranked as the number one "In the Kitchen" weekend show during its initial six-episode run. Food Network renewed the show for a second season, which premiered January 4, 2009 and for a third season, which premiered July 12, 2009.
On Big Daddy's House, Aaron shares his passion for big, bold flavors and fun, family cooking. From comfort foods to barbeque favorites to breakfast delights, Aaron whips up mouth-watering recipes inspired by many years of culinary experience and his fun-loving family while bringing a down-to-earth vibe and warm smile to the kitchen. Whether cooking with his children, relatives, friends, or even by himself, big food and big fun reign supreme.
In 2010, Aaron's cookbook entitled, "Simply Done, Well Done" entered bookstores nationwide offering up the delectable menu choices showcased on his series in an easy to prepare, simple way making his good cooking available in people's kitchens everywhere. Aaron also launched a product line of spices thereby furthering his quest to make flavorful, bold foods available to everyone.
A family man who adores all things flavorful, Aaron's passion for cooking was sparked at the age of four when he started baking cakes in his sister's Easy Bake Oven. Always an entrepreneur at heart, Aaron began making and selling cakes and cookies to his childhood friends. At the age of 13, Aaron was as a Junior Volunteer in the kitchen at Cooper Hospital University. He has since worked in nine New Jersey restaurants including casual and fine dining. In 2003, Aaron opened his own restaurant in Camden, N.J., called McCargo's Restaurant.  He also served as the executive VIP catering chef at Thomas Jefferson University Hospital in Philadelphia. He attended Atlantic Cape Community College's Academy of Culinary Arts.
Aaron has been featured on numerous national news programs including The Today Show, Regis and Kelly, Rachael Ray, The Talk, Dr. Oz, and The Chew. His rise to fame has been covered everywhere from The New York Times, to Essence Magazine where he was previously a contributing editor. In ESSENCE Magazine readers were able to find more of his innovative ideas about how to get the family into the kitchen. He has served as spokesperson for the Great American Dine Out and worked closely with Share Our Strength to help nearly 12.6 million American children in their fight against hunger. The Great American Dine out afforded Aaron the opportunity to see his recipes featured on menus of participating restaurants around the country.
Born and raised in Camden, N.J., Aaron regularly speaks to youth at community schools and events illustrating that they too can succeed despite the odds. Honoring him for his success and service, Camden Mayor Gwendolyn Faison presented Aaron with the keys to the city in 2008 and designated September 25 as Aaron McCargo, Jr. Day.
Aaron comes from a large family (he has five brothers and sisters) whose constant support has helped him achieve his goals. In his spare time, Aaron enjoys Bible study, tennis, Buffalo wings, watching sports, and traveling. Married with three children, Aaron lives with his family in New Jersey.
Aaron is the founder of the PlayToWin charity, whose charter is to provide services to male youth primarily residing in single parent homes in the City of Camden and demonstrate at risk behaviors.  He is currently working on his latest cookbook and awaiting the highly anticipated opening of his newest restaurant, McCargo's Bistro.