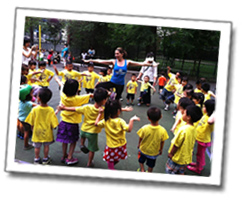 PopFit Kids is a high-energy FUNctional fitness club that teaches life-long healthy habits kids can share with the whole family. Through energizing circuits, dynamic drills, exciting games and more, each PopFit Fitness Adventure touches on the critical aspects of The Fab Five: Cardio, Strength, Flexibility, Endurance and Balance – all in a fun-fueled up way.
PopFit Kids Healthy Heart Workshop
Saturday, March 1st: Main Stage
Get Your Move on with PopFit Kids as they take you on a cool-to-do cardio adventure (plank jacks anyone?) that will help make the heart muscle stronger. This fit-tastic workshop is sure to keep everyone on their feet and having lots of fun!