BUY TICKETS HERE to make A Celebration of Beans with Vegetarian Chili and Hummus with Bill Telepan of Telepan Restaurant on Saturday, February 28 at 11 AM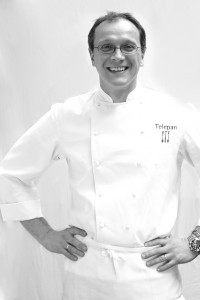 Bill Telepan Chef/Owner of Telepan
One of New York's first and most acclaimed devotees of "greenmarket cooking", utilizing the freshest ingredients from local markets; Bill Telepan is committed to showcasing the season's bounty through his cuisine. He insists on understanding where his ingredients come from, how they've been cared for, and using the best of what is available—a thoughtfulness that's reflected in the vibrant dishes he creates at his namesake restaurant.
Bill's style of cooking stems from his childhood in New Jersey, where his family cooked and shared hearty meals together, often featuring fresh vegetables from their garden. His mother took pride in serving bold dishes influenced by her Hungarian heritage, and her passion resonated with Bill. He began working at local restaurants at a young age, eventually enrolling in the Culinary Institute of America (CIA).
After graduating from the CIA in 1987, Bill accepted a job at one of Manhattan's top restaurants, Gotham Bar and Grill. As a line cook working under Alfred Portale, Bill learned the importance of treating vegetables with care and precision to enhance their natural beauty and flavor.
In 1990, Bill traveled to Mionnay, just north of Lyons, to apprentice with Alain Chapel at his eponymous Three-Star Michelin restaurant. While there, Bill acquired an appreciation for cooking locally and seasonally.
Upon his return to New York, Telepan trained with Daniel Boulud at Le Cirque and Gilbert Le Coze at Le Bernardin. Working with these world-renowned chefs, Bill practiced the art of balancing flavors and textures while forming his own style of cooking.
Bill's career came full circle in 1991, when he signed on as Executive Chef of Gotham Bar and Grill with Alfred Portale. During his four years there, Bill prepared refined dishes using ingredients from nearby Union Square Greenmarket. Seeking a change, he became Executive Chef of Ansonia on the Upper West Side, where he developed his own menu and further refined his craft. In 1998, Bill joined JUdson Grill as the restaurant's Executive Chef, creating dishes guided by his own personal history coupled with contemporary influences. His cuisine helped earn the restaurant a Three-Star review from The New York Times.
With the desire to make his cuisine accessible to the home cook, Telepan penned the cookbook Inspired by Ingredients (Simon & Schuster), published in 2004. The following year, he opened Telepan restaurant on the Upper West Side. The restaurant allows Bill to showcase his simple and balanced approach to cooking and has earned him a loyal following and accolades including a 2014 Michelin Star, a glowing two-star review from The New York Times and the title of "Best Newcomer" in the 2007 Zagat survey.
Since 2008, he has been the Executive Chef of Wellness in the Schools (WITS), a non-profit organization dedicated to making school food healthy. As the first chef to join the WITS team, Bill has served as a leader of the WITS Cook for Kids program by developing nutritious school menus, training cafeteria workers and teaching culinary and nutrition concepts to students, parents and teachers. In 2009, Bill was honored with a selection to First Lady Michelle Obama's Chefs Move to School task force and preliminary conferences. Bill currently lives on the Upper West Side with his wife and daughter.