BUY TICKETS HERE to make Winter Vegetable Rolls with Haven's Kitchen on Sunday, March 1st at 3PM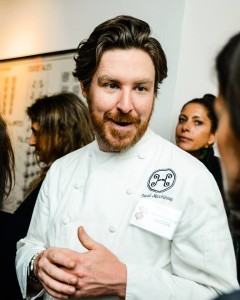 About the Chef
David made the leap from the financial to the gastronomic after several post-university years at PricewaterhouseCoopers. Beginning at some of the great restaurants of Toronto, David continued on to work under Chef Chris McDonald, one of Canada's most respected chefs, at his fine-dining restaurant Avalon and then at the Spanish-drive Cava.
In 2007, he moved to New York and staged at various fine-dining establishments, before ending up at Thomas Keller's Per Se for three years. David circulated through the kitchen, even spending some time in the bakery. He then left, going on to help Chef Benno open Lincoln Ristorante. David moved on to consult with the team behind Wilfe & Nell to open The Wren and The Penrose, while intermittently popping in to teach a Rose & Grilling classes at Haven's Kitchen.
He joined Haven's Kitchen full-time as the chef, and then Culinary Director overseeing all food operations for the space as well as the curriculum for the school. David lives in Brooklyn with his wife Aimee, and son Desmond.
About Haven's Kitchen
Haven's Kitchen is a recreational cooking school, specialty food shop, and event space. Located in a charming carriage house two blocks from Manhattan's Union Square, our business is dedicated to the preparation and enjoyment of delicious, sustainable, seasonal food.
Haven's Kitchen has quickly become a celebrated neighborhood café and gourmet shop, a one-of-a-kind event venue, and an ideal place to learn about cooking and sustainability. Most importantly, we have become a place to reconnect with food, our community, and each other.
We believe that personal wellness and the well-being of our planet are intricately and permanently connected. We hope to nurture that connection in as many ways as we can, and share our enthusiasm with everyone who walks through our front door