Jennifer Tyler Lee
Author of The 52 New Foods Challenge and creator of Crunch a Color®
Heralded by Jamie Oliver's Food Revolution as "A mom and genius game creator helping kids eat fresh food!", Jennifer Tyler Lee is an award-winning author, game creator, and healthy eating advocate. Jennifer has garnered national attention for her new family cookbook, The 52 New Foods Challenge, and her nutrition game, Crunch a Color®: The Healthy Eating Game, and developed a loyal following of parents and grandparents who tune in to her fast, easy, and delicious recipes each week.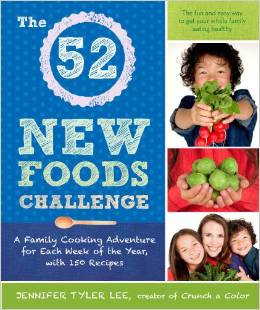 Jennifer's creative games and The 52 New Foods Challenge have been spotlighted by Michael Pollan, Jamie Oliver, Laurie David, Rachael Ray, US Weekly, The 700 Club, and Oprah.com—among many others. Her fresh, new approach to cooking together as a family has inspired a new series of free kids cooking classes at Williams-Sonoma—The 52 New Foods Junior Chef Series—along with an exclusive edition of her book. She is a featured blogger at The Huffington Post and a regular contributor to the James Beard award-winning publication, Edible. The 52 New Foods Challenge: A Family Cooking Adventure for Each Week of the Year, with 150 Recipes (Penguin Random House / Avery) won the 2015 National Parenting Publications Gold Award, and her nutrition game, Crunch a Color: The Healthy Eating Game, was named one of Dr. Toy's "10 Best" Children's Products in 2011 and 2012, and received the Parent-Tested Parent-Approved seal of approval.
A former product strategy consultant, Jennifer lives in the San Francisco Bay Area with her family. You can join her family cooking adventures at http://www.52newfoods.com and follow her on Twitter, Instagram, and Facebook @crunchacolor and #52NewFoods.