Cheesey Fun with Emmi Le Gruyère A.O.P.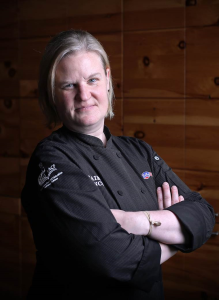 Claire Menck is an international award winning chef, restaurateur, and scholar.  She is a Corporate Chef at Emmi Roth USA where she brings over twenty-five years of experience in the food service industry covering the front, back and top of the house.  Dr. Menck has won awards for her work in the food service industry from the International Hotel and Restaurant Association, Women Chefs and Restaurateurs, and the International Food Service Editorial Council, as well as a host of other professional accolades.
Her passion for food ultimately led her down an academic path, both as a student and teacher.  Her research in food systems focuses on how communities use food to establish and maintain meaning and cohesion. Dr. Menck's doctoral dissertation, Recipes of Resolve: Food & Meaning in Post-Diluvian New Orleans, focuses on the role food played in recovery following the twin crises of Hurricanes Katrina and Rita, and the BP Oil Spill of 2010.
The dissertation won the Networked Digital Library of Theses and Dissertations Innovative Dissertation Award for 2011, and has been nominated for the Samuel Prince Dissertation Award (2011) and the Alvin H. Chapman Jr. Outstanding Dissertation Award (2013).  She has presented this work at a variety of conferences, as well as publishing multiple articles and chapters on these topics.  While in New Orleans she also worked on the documentary 'No One Ever Went Hungry,' which was honored as the Louisiana Endowment for the Arts 2012 Documentary of the Year.
Dr. Menck resides in Milwaukee. When she isn't in the classroom, kitchen, or restaurant, Dr. Menck enjoys spending time with her four-legged "daughter" Ella (an Australian cattle dog), as well as haunting the used bookstores, cafes, restaurants, and bars of her home city.