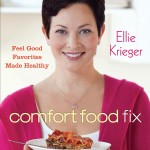 You don't often hear a Registered Dietitian say nothing is ever "off limits," but Ellie Krieger believes just that. With a philosophy of "usually-sometimes-rarely", Krieger is all about incorporating your favorite foods into a healthy lifestyle. To this end, Ellie has created Comfort Food Fix: Feel Good Favorites Made Healthy (Wiley Hardcover; October 17, 2011; $29.99), a collection of healthy versions of comfort food classics. Here Ellie provides 150 soul-satisfying recipes including hearty favorites like meatloaf, lasagna, chicken pot pie, crab cakes, mac and cheese, mashed potatoes, and more -- all without the calories and saturated fat.
Ellie has every meal covered:  There are recipes for breakfast, brunch and baked goods; snacks and starters; soups and sandwiches; meat, poultry, seafood, and vegetarian main dishes; sides and salads; and of course desserts. Each recipe contains complete nutrition information and calorie counts along with a side-by-side comparison of Ellie's healthy version of the recipe versus a typical version of the recipe. You'll be amazed at how simple substitutions can dramatically reduce both the caloric content of these recipes as well their saturated fat, sodium, and cholesterol counts, while increasing healthy nutrients and antioxidants – all without sacrificing flavor and the comfort food experience that we've all come to expect from these classic dishes.
Everyone loves fried chicken – Ellie's version, "Honey-Crisp Oven-Fried Chicken", is lower in calories, saturated fat, cholesterol, and sodium than a traditional version of fried chicken – but with the same crisp golden perfection that is sure to satisfy any fried chicken craving. Using skinless chicken thighs, low-fat buttermilk, corn flakes for crunch, honey, tons of spicy flavor, and baking the chicken rather than frying, Ellie reduces the calorie intake of this classic from 560 to 330 calories.
How does she do it? Ellie breaks down her "make healthy" strategy into "15 Fix Factors," many of which she applies in her "Honey-Crisp Oven-Fried Chicken" recipe, including:
Get Creamy (Nearly) Creamlessly – Use low-fat milk thickened with flour or cornstarch, along with evaporated milk for cream sauces, soups, and puddings; reduced-fat sour cream also ups the cream factor with less fat and no artificial ingredients
Un-Fry – Lightly bread, toss or spray with oil, and then bake to achieve that craveable crispness
Oil Well – Use antioxidant-rich extra-virgin olive oil or a neutral tasting canola oil for stir fries and baking
Sweeten Smartly – Use unrefined sweeteners like honey, maple syrup, and molasses; these give your blood sugar a gentler rise, but use them sparingly
Repro-Portion – Measure out servings and keep an eye on portions; most of us have grown accustomed to much bigger servings of food than we need
With full nutrition information for every recipe and gorgeous full-color photos that are sure to whet any appetite. Comfort Food Fix will have you eating healthier versions of your favorite comfort food dishes without any of the guilt.
ABOUT ELLIE KRIEGER:
Host of the Food Network's hit show "Healthy Appetite," now on the Cooking Channel, Ellie's warmth and charisma have made her the leading go-to nutritionist, with a lifestyle emphasis, in the media today. Krieger's success can be attributed to her unique way of offering real life advice without any of the gimmicks and crash diets that permeate the media today. She reaches people with her message that it is possible for anyone, given the tools and knowledge, to live life to the maximum by keeping a healthy balance and nurturing a richly satisfying and sumptuous, attainable lifestyle. Ellie's 2005 book Small Changes Big Results was a how-to on easy-to-live-with habit changes that yield optimal results. Ellie's second book, The Food You Crave: Luscious Recipes for a Healthy Life, was an immediate New York Times bestseller, peaking at #2 on that list. In addition to being named to Amazon's Customer Bestseller List for 2008, The Food You Crave won the 2009 IACP Cookbook award and the esteemed 2009 James Beard Foundation Award for "Best Cookbook with a Healthy Focus." Her last book, So Easy: Luscious Healthy Recipes for Every Meal of the Week, also became an instant New York Times bestseller.