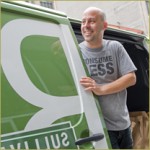 Jim Lahey, the owner of Sullivan St Bakery, originally planned to spend his life as a sculptor. His passion for art and natural beauty took him to Italy, where he found a new medium for that sculptor's urge: bread. Inspired by the bakers of Tuscany and Rome, he returned to New York City determined that the "peasant" bread of the Italian countryside could find a home in America.
In 1994, he started Sullivan St Bakery in Soho, with little more than the wild yeast he cultivated by hand in Italy, and a passion for bringing the exquisite, handcrafted breads of Italy to the American table.
In October 2000, the new headquarters for Sullivan St Bakery was opened on West 47th Street in Hell's Kitchen. As its reputation spread, the bakery grew into a destination for not just bread but also savory Roman-style pizzas, rustic Italian pastries and cookies..
Today, over 340 of New York's finest restaurants and markets, such as Jean Georges, The Four Seasons, Gramercy Tavern, Marea, Zabar's and WholeFoods are showcases for the bakery's remarkable bread. Visitors to the bakery's new home in Hell's Kitchen come from everywhere to try Jim Lahey's latest creations, including multigrain breads, seasonal tarts and pastries, and mouthwatering sandwiches.
Jim Lahey's simple, rustic bread has hit on something important: Bread is more than bread. It reaches all the way from the belly to the soul. In November of 2006, Lahey's no-knead method drew the attention of "The Minimalist" columnist Mark Bittman. His articles about it in the New York Times sparked a worldwide home baking revolution.
Several times a year Lahey invites the public to his "Master Classes for the Home Baker." The incredible success of these hands-on courses about pizza, focaccia and the "perfect loaf" soon led to the formation of The University of Bread at Sullivan St Bakery where he mentors apprentice bakers who hope to open their own bakeries around the world.
The past year has been eventful for Jim. His book, MY BREAD - inspired by those Bittman articles- has been published to great reviews, and he has opened up his first restaurant, Co. (230 9th Avenue at 24th Street in Manhattan). The name is short for Company, a word whose Latin roots refer to the phrase "with bread," of course.