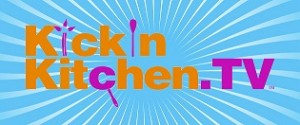 To celebrate the inaugural Kids Food Festival:Â KickinKitchen.TV presents a sneak preview of their new multimedia platform.
Guests will be able to experience the next big hit in cooking kids entertainment by watching clips of the series throughout the festival, meeting producers, and hanging with cast members!
KickinKitchen.TV is a new comedy-cooking mash-up about four teens creating and starring in their very own cooking show. Â It stars teenage singing superstar, REYNA, who dreams of becoming a top chef and hosts a cooking web show with her three best friends, STACY, DEVON and MAX. KickinKitchen.TV is a new groundbreaking multimedia property that is a totally new recipe for nutrition and health education for the digital age.
This live-action TV-style web show marries together comedy, cooking, social media and interactivity. KickinKitchen.TV will revolutionize food and health culture by inspiring kids and families to make healthy choices about food, fitness and wellness. The site will become the go-to online destination where kids can connect, share, and learn about eating well and being fit through webisodes, user generated content, contests, recipes, videos, music, blogs, fitness and nutrition tips, games, and even mobile apps.
Think Glee for food! That's KickinKitchen.TV.
About KidsCOOK Productions: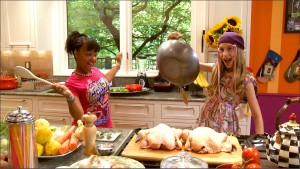 Founded in 2005, the premiere multimedia entertainment company in Cambridge, MA produces KickinKitchen.TV. Our mission is to fight childhood obesity and to revolutionize food and health culture by reaching kids and families where they live, learn, eat, and play. KidsCOOK Productions is a funding recipient of USDA and a 2011 Finalist of MassChallenge- entrepreneur incubator site. Boston University, Harvard School of Public Health and Yale University academics provide educational and nutritional expertise to KidsCOOK Production.