August 26th at 1:00 pm - Buy tickets here!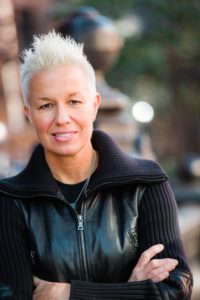 Chef/Author/Artist
Chef Elizabeth Falkner is sometimes referred to as a "Culinary Instigator". She is a world recognized chef and continues to be a pioneering leader in the culinary
arts. For more than twenty years, she wowed the San Francisco/Bay Area rising quickly as a star working with renowned chefs in the restaurant scene and then at her own Citizen Cake (for 15 years), a multiple award winning restaurant, bar and patisserie, and then at Orson restaurant.
After moving to New York in 2012, Falkner successfully launched two independent restaurants and gained immediate successful press including a 2 Star NY Times review for her Neapolitan pizza in Brooklyn. Falkner is a multiple award winning chef and has been a James Beard Foundation
Falkner is a multiple award winning chef and has been a James Beard Foundation Award nominee.
A lover of culinary competition, Falkner has competed in multiple culinary competitions including Food Network's "Next Iron Chef, Redemption," "Iron Chef America" and "Next Iron Chef, Super Chefs," in which she was a finalist and runner up. She has been a three time competitor on "Food Network Challenge," as well as a contestant on Bravo's "Top Chef Masters." In addition to competing, Falkner also has acted as judge on several episodes on the Top Chef series in the U.S. and Canada. and on Cooking Channel and Food Network, Canada.
Chef Falkner was the first American to win the "Freestyle Neapolitan Pizza" category of the World Pizza Championship in Naples, Italy in 2012.
Falkner is known as an expert in many aspects of culinary in traditional cuisine and in modern cuisine. She does both savory and sweet and has been a consultant for numerous products and brands including: Mulino Bianco/Barilla, Center For Culinary Development, Kellogg's, ScharffenBerger/Hershey Chocolate, Prosciutto di Parma, Meat and Livestock Australia, Nestlé, Pillsbury, Starbucks, Emmi Cheese and many more. She is the first female chef on the culinary council for Holland-America Line.
Falkner's first cookbook, Demolition Desserts (2007) was a finalist for IACP's Julia Child Best First Cookbook award in 2008. Cooking Off the Clock, her second book, was released August 2012.
She is a long time member of and served as the president of Women Chefs & Restaurateurs from April 2014 to April 2015. She produced and the most highly attended annual conference and Women Who Inspire awards and gala in NYC in April 2015. Falkner also produces and emcees the annual WCR Food Games, a live cooking competition.
Falkner graduated with a BFA from The San Francisco Art Institute and fell in love with the food movement in California in the early 90's. She is writing a memoir and coming full circle to her roots in fine art and working on a series of Food/ Art Installations called "Paradigm"-looking at food outside of a restaurant context in collaboration with her brother Ryan Falkner who is also an artist and filmmaker.
She is an advocate for people and chefs to think more like athletes and stay fit to cook. She played soccer for 28 years, does Jungshin-a sword fighting fitness program, yoga, pilates ran her first marathon, the NY Marathon in 2016.