August 27th at 1:00 pm - Buy tickets here!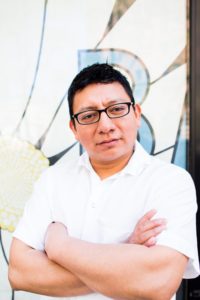 As a boy in Guatemala, Julio remembers watching his father, a baker, mill wheat using giant stones to pulverize grain into flour. Even though his father produced some of the best bread in their small village using centuries old techniques, Julio never wanted to follow in his dad's footsteps. Instead he mastered the intricate Mayan craft of fabric weaving called treadle (or foot loom). It was a seemingly unrelated skill but one that provided invaluable training for his hands. This would later serve him in his future calling in America. At the age of 18, Julio immigrated to the United States and found his life coming full circle as he entered the world of baking. There wasn't a big demand for Mayan weaving but New York was in the early stages of a bread renaissance and bakers were in demand.
Julio apprenticed at The Sullivan St. Bakery, becoming the top baking assistant. In 2006, he joined forces with Monica Von Thun Calderón, the owner of Grandaisy Bakery in Tribeca to become head baker. He now supervises a staff of nearly 30 pastry, bread and pizza bakers supplying baked goods throughout the region.
In his new role, Julio has access to the best modern equipment and produces thousand of loaves daily, but his passion and skill remain deeply rooted in the tradition and simplicity of the rustic artisan baking he witnessed as a boy.