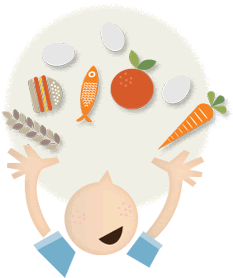 Appetites of all sizes will be satisfied! Kids bounce amongst exhibitors on a Balanced Plate Scavenger Hunt, explore their way through the kitchen playground, get hands-on during chef-led cooking classes and taste and sample various foods and products, and more! Parents are exposed to new, related products and services, learn new information to benefit their families and enjoy presentations on the key ingredients for that perfect balance of yummy and good-for-me!
Kids Balanced Plate Scavenger Hunt:
Seek, discover, taste, and win! Kids had fun exploring the Kids Food Festival in efforts to create the perfectly balanced meal! Participants received a Balanced Plate Scavenger Hunt activity card (based on the USDA ChooseMyPlate.gov guidelines) and bounce from kiosk to kiosk, engaging in exciting activities and sampling family-friendly foods – while also learning about the importance of achieving balance in their food choices. At each stop they received a food-themed stamp and were rewarded (with an amazingly tasty goody bag full of featured products and samples) when they balanced their plate correctly.