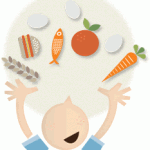 Kids Balanced Plate Scavenger Hunt: Seek, discover, taste, and win! Appetites of all sizes will be satisfied! Kids bounce amongst exhibitors on a Balanced Plate Scavenger Hunt, explore their way through the kitchen playground, get hands-on during
chef-led cooking classes and taste and sample various foods and products, and more! Parents are exposed to new, related products and services, learn new information to benefit their families and enjoy presentations on the key ingredients for that perfect balance of yummy and good-for-me!
Kids have fun exploring the Kids Food Festival in efforts to create the perfectly balanced meal! Participants receive a Balanced Plate Scavenger Hunt activity card (based on the USDA ChooseMyPlate.gov guidelines) and bounce from kiosk to kiosk, engaging in exciting activities and sampling family-friendly foods – while also learning about the importance of achieving balance in their food choices. At each stop they receive a food-themed stamp and are rewarded (with an amazingly tasty goody bag full of featured products and samples) when they balanced their plate correctly.
See what was on the menu!
Saturday:
James Beard Foundation Future Foodies Pavilion
10:00 Grayson Schmitz: Banana Pops with Honey Yogurt Sauce
11:00 Tony Liu: Build Your Own Pizza
12:00 James DiStefano: Chocolate Chip-Sunflower No-Bake Cookies
1:00 Candice Kumai: Chili Lime Shrimp Tacos & Roasted Tomatillo Salsa
2:00 Michelle Duran: Fruit and Vegetable Ceviche & Sushi Bites

3:00 Tanya Steel: Edamame Succotash
4:00 Cricket Azima: Fresh, Flavorful, Fun Salsa *inclusion class – for children of all abilities; dairy-free, gluten-free
Kids Food Festival Performance Area
10:00 Frances Largeman-Roth: Smoothie & No Bake Power Balls

10:30 Mareya Ibrahim, The Fit Foody: Spaghetti & Meatballs Made Better
11:00 Terry Walters: Apple Squash Soup
11:30 Songs for Seeds
12:00 Super Why Meet & Greet: Yummiloo and the Rainbow Machine
1:00 Super Sprowtz
2:00 Little Club Heads
2:00 Veggiecation: Crazy Crunchy Cool Cucumber Salad
3:30 ScrapKins
4:00 Cooking Light's Chef Billy: Shrimp Fired Rice
4:30 Apple to Zucchini: Label Detective Academy
Sunday:
James Beard Foundation Future Foodies Pavilion
10:00 Thiago Silva: Spiced Gluten-Free Waffle Stix with Fresh Berries
11:00 Benjamin Towill: Banoffee Parfait
12:oo Nira Singh: Garden Salad
1:00 Ellie Krieger: Waldorf Salad
2:00 Chris Nirschel: Italian 101

3:00 Cricket Azima: Pattern Parfaits
4:00 Jehangir Mehta: Chickpea Chaat

Kids Food Festival Performance Area
10:00 Karma Kids Yoga
10:30 Yo Gabba Gabba's: Brobee Meet & Greet Photo Session by Time Out Kids
11:30 Baby Loves Disco
12:00 Katie Workman: Sesame Edamame & Taco Night
12:30 Josh Beckerman: Foodie Magician
2:00 Aaron McCargo, Jr.: Funcked Out Grilled Cheese & Tomato Soup
2:30 Funny Foods
3:00 Ghylian Bell: Urban Yoga Foundation
4:30 Alexandra Zohn: Rainbow Trifle